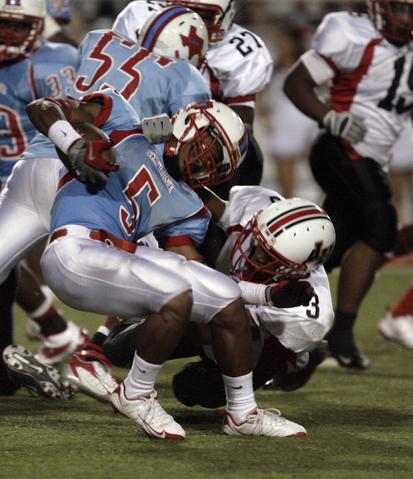 Per both premium sites, Michigan has received a commitment from RB Tony Drake out of Dallas's powerhouse Skyline High School. Drake is a little guy (5-8, 160) and could end up at either RB or slot.
Recruiting Notes
Drake's recruitment moved quickly, to say the least. Most Michigan fans hadn't heard of him before today. However, Rich Rodriguez and company had, and after evaluating his film, they offered Drake, who accepted almost immediately.
Player Notes
As mentioned above, Drake is a little guy (listed anywhere between 5-6 and 5-9), and with his skill set and size, he could excel as either a quarkback or a slot receiver in the Michigan offense. His measurables call to mind Jeremy Gallon, though Gallon was more proven at the time of his commitment last year, having been a multi-year starter at QB for Apopka, whereas Drake has been on the bench for Skyline, behind James White (3* Iowa State commit in the class of 2009), and second-leading rusher QB Chris Frazier (a 2* who signed with SMU). He finished the year with 429 yards on 55 carries (7.8 ypc) and 3 touchdowns. Receiving, he had 7 receptions for 73 yards (10.4 ypc).
Etc.
Drake is a high school teammate of Scout/Rivals 4* LB Corey Nelson. Though he hasn't shown the Wolverines much interest yet, Drake's commitment might help them get their foot in the door with Nelson.
Video

Photo by Milton Hinnant of the Dallas Morning News.
Posted under Football, Recruiting
Tags: 2010, commitments, tony drake

5 Comments so far
Trackbacks
More Blog Post