I guess this is my punishment for only giving 1 recruiting update last week: there's a ton of information that I need to cram in. Expect at least 1 more recruiting update this week, and maybe 2, since the Spring Game should be a fairly serious recruiting event. This update will be a strict adds/removals/offers affair. You can find the 2010 Recruiting Board here.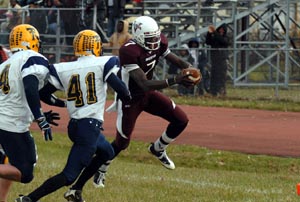 MI QB Devin Gardner (seen at left) has publicly announced his commitment to Michigan. He was already listed as committed on the recruiting board.
Michigan has apparently offered (or are heavily recruiting) LA DE Jordan Allen. However, the homestate LSU Tigers are still considered the (perhaps prohibitive) favorite.
The Wolverines also recently offered PA DE Dakota Royer.
According to two particularly revealing Scout headers, the Wolverine have offered both NY DE Dominique Easley and DE RB Jamaal Jackson. They've both been added to the board, and given the amount of football talent that comes out of that state, I'm surprised I didn't have to look up the postal code for Delaware.
This Rivals header is equally obvious, and so it is true that OH OL Christian Pace has been offered, confirmed by ESPN. Sticking with ESPN, IN DE Blake Lueders has also received an offer. TX S Luke Muncie has also been offered (info in header).
FL WR Quinton Dunbar has decommitted from the University of Miami, and the Wolverines are among the 5 he will consider (joined by the Big 3 in Florida, as well as UCF). He will announce his decision on Signing Day. He's been added to the board.
MI CB Mylan Hicks from Renaissance High School has received offers from the Wolverines and Michigan State this week.
A super-sketchy ESPN report that I'm not sure how much I should trust asserts that Michigan offered 5 teammates at DeMatha High School in Maryland. I don't trust the offer status, but it's certainly worth at least adding the guys to the board. They are Michael Cooley, S Lorenzo Waters, OL Ari Kouandjio, RB Marcus Coker and S Jeff Knox. The only two that I had even heard of before this report were Knox and Coker, and Cooley isn't in Rivals's or Scout's databases, while Kouandjio is nowhere to be found on Rivals (and Scout throws an 'e' at the end of his first name). Keep this developing situation in mind.
Another article with a pretty good amount of Michigan-related information is offered up by The State. SC S Bashaud Breeland has received a Michigan offer, as has SC DT Brandon Willis. VA LB Chase Williams is hearing from Michigan, and may get an offer down the road. He's been added to the board.
GA QB/Ath Blake Sims, who was thought to be a pretty serious candidate for another signal-caller in this class, committed to Alabama. The first articles I saw about it had non-definitive titles like "Has Blake Sims committed to Alabama?" or "Blake Sims reportedly commits to Alabama," but stuff in the last day or so has been more definitive.
CO QB/Ath Kain Colter has committed to Stanford, and will be removed from the board.
Posted under Football, Recruiting
Tags: 2010, ari kouandjio, bashaud breeland, blake lueders, blake sims, brandon willis, chase williams, christian pace, dakota royer, devin gardner, dominique easley, jamaal jackson, jeff knox, jordan allen, kain colter, lorenzo waters, luke muncie, marcus coker, michael cooley, mylan hicks, quinton dunbar

2 Comments so far
Trackbacks
More Blog Post