2010 Michigan Wolverines Recruiting Board.
Moved to committed: PA DE/LB Jordan Paskorz. Commitment Post.
Let's get started with the bad news. For those who were harboring some hope that the Wolverines would be able to steal MI LB William Gholston from the Spartans, it might be time to think again. Take a look at the outfit that the young Mr. Gholston wore to prom (HT: The Only Colors):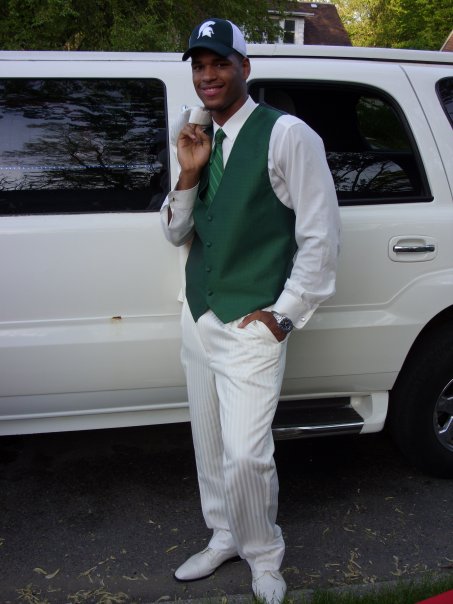 So, yeah. Spartans lead. Gholston, despite his frequent trips to ann Arbor, has made even more frequent trips to East Lansing. His high school coach at Detroit Southeastern is allegedly in the pocket of Mark Dantonio, and Gholston grew up a Michigan State fan. All of these factors certainly add up as circumstantial evidence that the Spartans are likely to be the favorite to land Gholston. It's certainly too early to give up all hope, but it's probably time to temper some expectations, methinks. It's unfortunate that he'll end up moving to defensive end when he gets to East Lansing, when Michigan is offering him the opportunity to remain at linebacker, but there are certainly several factors at play in his recruitment. You can't get 'em all, so unless he indicates that Michigan still has a definite chance, we'll kindly move along from Big Will II.
Some offensive soul-searching for the Florida offense in the wake of the Tebow Child's eventual departure. Michigan isn't particularly strong with any of the QBs mentioned in the article (TN Barry Brunetti, CA Jesse Scroggins, GA Marcus Smith, and IA AJ Derby – the most realistic prospect in the bunch), but Florida's schemes will certainly affect their recruiting in this and future classes, which will likely have a domino effect on Michigan, as well.
Speaking of QBs, time to remove one of Michigan's potential second options from the board: TX QB Jeremy Johnson has finally committed to West Virginia.
In other QB news, FL QB Christian Green has released a top 6, with Michigan nowhere to be found. He's expressed interest in moving to wideout in college (which would actually be good for Michigan, assuming he'd be willing to play quarterback for at least one year), and seems to be very into Florida State. If I used MGoIcons, he'd get a Nefarious Eduardo up in this joint.
Sam Webb Detroit News fluff on CA RB Brennan Clay:
"I'm open to all the schools right now," he said. "I've told them all that I don't have a favorite yet and I'm showing them all interest. I'm gonna announce my top 10 before the season starts. I want to take a few official visits and hopefully I'll be able to commit during mid-season or before our playoffs start."
Clay, obviously, is the former teammate of presumptive starting QB Tate Forcier, and Michigan has really become more of a factor in his recruitment of late.
Rivals (free) video fluff on MN OL Seantrel Henderson:

Relevant recruiting notes include the fact that he plans to narrow to a top 5 before the season, and take official visits to all of the finalists before eventually making his decision on National Signing Day. He also had some nice things to say about Michigan (probably the most positive-sounding comments about any of the schools he mentioned, for what it's worth). He said it's a really big university, and he really likes the campus, plus the coaching staff is pretty cool, and there are nice new facilities and lots of new stuff going on. He didn't mention this in his Michigan-related snippet, but Seantrel did say he plans to major in business or communications, and wants to go to a school that is strong in either of those. Michigan is excellent in both, so that's another plus.
Though he went from somebody that the likes of Sam Webb was routinely mentioning as a "hot prospect" for Michigan on the WTKA morning show to a recruit that doesn't seem to be all that interested in the Wolverines anymore, SC DT AJ Cann is still one of the few interior defensive line prospects on the board at this time. Fluff from his coach:
"A.J. is a humble kid," he said. "He doesn't talk about it. A lot of times when you get a kid who's been offered by 32-35 Division I schools, a lot of kids believe he's going to get this treatment, he's going to act this way. A.J.'s the same kid he was before he got those 35 Division I offers.

"He busts his butt in practice. He's a leader out there. When you tell him to do something, he asks no questions. He's front of the line, showing young guys what drills we do offensively and defensively the same thing. He's responded to it well and hopefully, within the next couple of weeks, that will take a little bit off of him."
So, mostly boilerplate "the teams played hard and somebody won"-type coachspeak about one of his top players, no? However, I'm not quite sure how to interpret the very end of that quote. It sounds like he may be deciding soon.
PA DE Dakota Royer has been a steady prospect over the course of the year, collecting offers in small batches, but never really blowing up. Now, however, he at least has the opportunity to become something of an internet sensation (HT: Black Shoe Diaries):

That's Mr. Royer jumping out of a 4-foot pool from shoulders-deep. He's apparently quite explosive, though many sports media outlets would probably rather have you believe that he's a "gritty" or "lunch pail" defensive end. Michigan has offered Royer, and stands a good chance to be in his top list for the foreseeable future.
OH LB Commit Antonio Kinard often seems to be the forgotten commit in Michigan's 2010 class so far, but he's having a successful track season of his own. He is a long jumper, and recently took first place at a meet, thanks to 2 of the best 3 jumps.
VA LB Chase Williams has mentioned Michigan in the past, but it doesn't sound like he's particularly interested in the Wolverines:
"This month has been packed with 19 schools including Virginia, Virginia Tech, Maryland, Tennessee, South Carolina and Ohio State," he said. "All of them are saying they want me to come to camp this summer so they can see me in person to see all the things they see on film."

"I haven't made a true list of top schools yet," he said. "I am starting to focus more on the schools that have offered and maybe one or two others. That is because I think I'm making a decision kind of early. I think the time when I cut things down is getting closer, but I know I haven't approached that barrier yet.
The early decision and lack of strong Michigan interest seem to imply that the Wolverines probably don't have much of a chance to land him, at least at this time.
AL S Jarrick Williams has not reported Michigan interest, despite being one of the top secondary prospects in the nation. Now, it appears as though he's narrowed his list of choices to Auburn and Alabama, and I think that's as good an excuse as any to remove him from the recruiting board.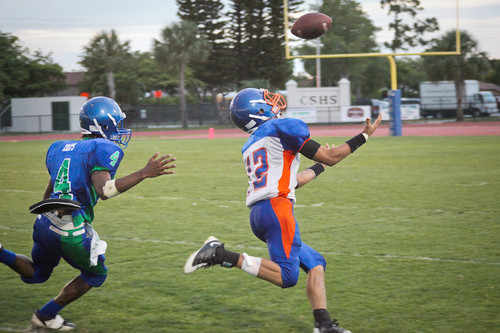 Fluff in the Broward Sun-Sentinel includes very little information. It's about how spring high school football – which we don't have in Michigan, much to my chagrin at times – is no longer just about schemes and whatnot, but also an opportunity for college prospects to show their stuff for scouts, and get noticed, hoping for recruiting results down the road. The only reason I'm even bothering to link it is a pretty cool picture of FL CB Tony Grimes, shown at left making an over-the-shoulder catch, though I have no idea whether he was intercepting or receiving the pass.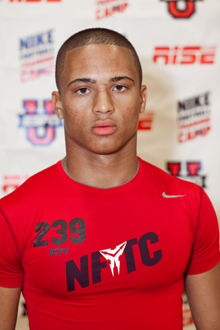 FL CB Spencer Boyd is still favoring Notre Dame, and plans to make a summer decision. Like many defensive backs of late (including FL CB Lorenza Wood, who had previously been favoring Michigan and now likes the Irish), he cited the TEH AWESOMEZ recruiting abilities of Irish Defensive Coordinator Corwin Brown, who played for Michigan. Take that as you will, and I'm glad to see a former Wolverine having success in the coaching world, but I'd certainly prefer to see him do so in a place other than South Bend. The biggest threats to the Domers for Boyd seem to be SEC schools.
Like I said in this week's previous recruiting update, defensive back doesn't seem to be a huge concern at this point. The Wolverines are holding steady with several prospects, and a commitment this weekend at the Big House BBQ (about which I'll have more info tomorrow morning) would go a long way to easing the fears of Michigan fans.
Of course, the Michigan coaching staff may not be all that confident in their ability to land some defensive backs, as they're still handing out offers like candy. The latest is GA CB Darius Robinson (info in header). I've added him to the recruiting board.
Non-2010 stuff below.
2009 QB signee Denard Robinson is considered one of the frontrunners (along with 2010 FL CB Cody Riggs) to be the Class 6A-4A High School Athlete of the Year. If he wins the award, it will be due to both his football and track exploits, so congratulations to Denard (HT: The Michigan Football Blog).
A quick note on 2011 FL RB Demetrius Hart. In a weather-shortened spring game, he managed to rip off a 65-yard TD run. He's considered a top 2011 prospect, and has stated that he'd probably commit to Michigan as soon as he could receive an official offer on September 1st. With Ricardo Miller now at Ann Arbor Huron rather than Hart's Dr. Phillips High School in Orlando, that Michigan love may have declined a bit, but they'll probably still pursue the diminutive speedster.
Posted under Football, Recruiting
Tags: 2009, 2010, 2011, aj cann, aj derby, antonio kinard, barry brunetti, brennan clay, chase williams, christian green, corwin brown, daokta royer, darius robinson, demetrius hart, denard robinson, jarrick williams, jesse scroggins, jordan paskorz, lorenza wood, marcus smith, ricardo miller, seantrel henderson, spencer boyd, tate forcier, tim tebow, tony grimes, william gholston

Trackbacks
More Blog Post