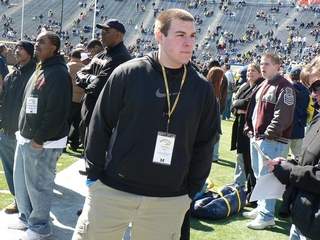 2010 Michigan Wolverines Recruiting Board.
Moved to Committed: OH OL Christian Pace (seen at left). Commitment post. Pace also plans an early enrollment at Michigan.
Big House Barbecue fluff from Josh Helmholdt in the Free Press. Boilerplate stuff.
Fluff on FL QB Jeffrey Godfrey of the "he's a QB even though he's 5-11" variety. Godfrey has been told he's not a QB his whole life, etc. Not to completely discard the article (despite the fact that it was clearly written by someone who should have a job writing things), but Godfrey really sounds like the type of guy Michigan would want to bring in, give a shot at QB for a year or two, then move to a different position down the road.
SC RB Marcus Lattimore and TX RB Lache Seastrunk thoroughly enjoyed their visits to Auburn last weekend (along with seemingly every prospect south of the Mason-Dixon Line), and both are extreme longshots, especially with Lattimore trimming his list to 8 non-Michigan schools earlier this week. Still no word on whether he intends to take the official visit for the Ohio State weekend as he had planned, so I'll leave him on the list for now. Seastrunk has stated in no uncertain terms that he'll probably end up playing his college football on the Plains, barring unforeseen developments.
FL RB Darion Hall is talented, but "needs to mature on and off the field." With the Wolverines already filling up at running back in this class, I would be surprised if they took a guy who might be a risky prospect. He was suspended for half of his school's spring game.
Prospective future Wolverine Torrian Wilson (who, in the past, has named the Wolverines his favorite and still has them in his top 5) has been selected to the ESPNU-Under Armour All-American Game.
After cutting down his list earlier this week, MN OL Seantrel Henderson, who is at or near the top of most prospect lists, has started planning out some summer visits. He plans to stop by Michigan for sure, possibly for summer camp. While we're on the subject, let's look at the reasons that coaches so covet Henderson:

With Michigan visits both in his past and future, the Wolverines are likely among his top schools.
It appears as though the bridges between Tennesse and Pahokee may be on the mend. FL DT Richard Ash has the Volunteers near the top of his list, despite the disparaging remarks made about his hometown by UT headman Lane Kiffin. However, the Gators definitely still lead for the big man from the muck.
Added LA DT Harold Legania. No word as yet on particular interest from Michigan but he may be a prospect down the road. He is a high school teammate of QB prospect Munchie LeGeaux at Edna Carr high school, and the Wolverines might be interested in a package deal for players at two positions of need.
Previously-removed IL DE Chance Carter says he's only considering Notre Dame, Stanford, and Nebraska, but might also give the Wolverines some consideration if they offer him. With the current players committed (Antonio Kinard, Jordan Paskorz) or on their way to being committed (Ken Wilkins – see below), I don't see him getting an offer, so I'll leave him off the board.
OH DE Marcus Rush, who was previously believed to be heavily favoring Michigan, is approaching a decision (info in header). Considering that development came shortly after visiting Ann Arbor for the Big House Barbecue, I wouldn't be surprised if he was still feeling the Wolverines – enough to commit. However, with several DE/LB tweeners already in the class, I don't know if there would be room for him at this point.
MI LB/DE William Gholston has named a top-9 list that includes Michigan (along with Michigan State, Ohio State, USC, Tennessee, Alabama, Florida, Miami of Florida, and Oklahoma). Still, for some odd reason, I'm not holding my breath.
PA LB Ken Wilkins has set a date for his college announcement: Next Tuesday. Wilkins was in town for the Big House Barbecue, and reportedly enjoyed himself immensely. He is expected to pick Michigan at that time.
VA LB Aramide Olaniyan, despite his Duke commitment, is still saying positive things about the Wolverines. I'd left him on the board for the time being, and it seems as though that decision was justified. He's planning to take other visits, so we'll see if anything comes of it.
Fluff article on various DBs in Florida, including FL CB Tony Grimes, a recent visitor to Ann Arbor for the Big House BBQ:
"If they try to throw to my side, I'm going to come down with the ball and make a play on it for my team," Hollywood Hills cornerback Tony Grimes said. Along with a physical style of play and ball-hawking skills, Grimes brings leadership as well. Hollywood Hills coach Scott Barnwell has noticed the impact it has had on his team.

"With his leadership and having a person of that caliber, these kids pick up their game also and they get to see all of the different college recruiters coming out, and it just raises the level of everyone's game, which for the team is tremendous," Barnwell said.
Though the Michigan visit (and a planned return in the fall) seem to bode well for Michigan, that may be more of a pipe dream, as the Hurricanes of Miami are expected to be a heavy favorite.
Michigan has offered SC CB John/Johnavon Fulton. The offer has helped them vault towards the forefront of his recruitment (info in header). However, he still really likes Alabama, and the Wolverines are definitely in catch-up mode.
From Bill Kurelic at ESPN: IL WR Kyle Prater, IA QB AJ Derby, and MI CB/Slot Dior Mathis are all planning to take all 5 of their official visits before coming to decisions. This might leave Mathis and perhaps Derby out of luck, but Michigan would probably make room for Prater if he ultimately decided on the Wolverines.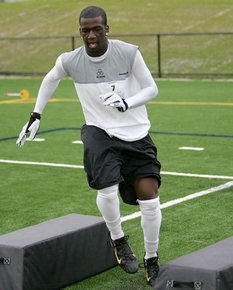 And now, for the latest edition of your intermittent 2011 recruiting updates: Sam Webb brings the fluff on 2011 MI WR DeAnthony Arnett from Saginaw, seen at right. The Wolverines were the first school to offer Arnett, a true WR with the ability to play slot (think more Je'Ron Stokes than Jeremy Gallon), and are considered the likely favorite for his services. He's also taken southward trips recently, to camps such as Tennessee, so this will be no cakewalk to land DeAnthony, and Michigan will have to work to earn a commitment from him.
Posted under Football, Recruiting
Tags: 2010, 2011, aj derby, antonio kinard, aramide olaniyan, chance carter, christian pace, darion hall, deanthony arnett, dior mathis, harold legania, jeffrey godfrey, jeremy gallon, jeron stokes, john fulton, jordan paskorz, ken wilkins, kyle prater, lache seastrunk, marcus lattimore, marcus rush, muchie legaux, richard ash, seantrel henderson, tony grimes, torrian wilson, william gholston

2 Comments so far
Trackbacks
More Blog Post