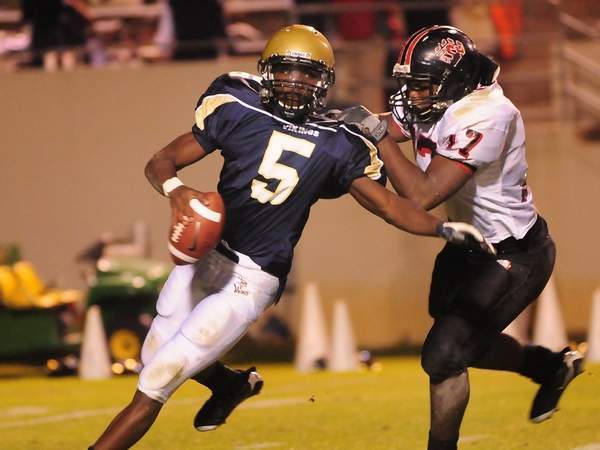 Moved to committed:
SC QB Cornelius Jones. This recruitment train has been chugging along on the track to inevitable commitment for quite some time, and he committed at Michigan's camp on Monday. Local paper commitment article.
The situation of TX LB Holmes Onwukaife is much less clear, but it appears as though he's been given the same treatment that FL CB Travis Williams received when he tried to commit earlier this spring: The coaches told him to wait it out, and make sure he was making the right decision. In other words, they told him not to commit.
Sam Webb Detroit News fluff on the Sound Mind, Sound Body Camp in Detroit. Included is the indication that MI QB Commit Devin Gardner is all but assured to take over the throne as the to player in the state of Michigan, replacing recent MSU commit DE William Gholston (though the indications have been piling up since long before Gholston's pledge). Gardner has excelled at QB in such events recently, so much so that he's taken to showing off his athleticism at WR as well.
The paring down of QBs will be done a little more liberally, now that it's unlikely that Michigan is in the market for another.
Removed TN QB Barry Brunetti, who committed to West Virginia.
Removed FL QB Christian Green, who hasn't been considering Michigan all-too-seriously of late.
FL RB Eduardo Clements made his way to Michigan's camp this week, and it seems as though the Wolverines may be his new leader.
Removed FL OL Brent Benedict, who committed to Georgia.
OH DE Darryl Baldwin seems to have settled on a final list of schools that does not include Michigan. The Buckeyes, Spartans, Nittany Lions, and Irish will vie for his services. I'll leave him on the board for now, since that's the first I've heard of such a narrowing. However, don't expect him to remain much longer: Ohio State may be receiving a commitment soon.
FL DE Delvin Jones has named a top 3 of Alabama, USC, and Tennessee. With the Wolverines not on his short list, he'll be a candidate for removal sooner rather than later.
Removed MI DE/LB William Gholston, who committed to Michigan State. This was a shocking turn of events that was not at all expected.
DC LB Javarie Johnson has named a top 4 of Michigan, Michigan state, Maryland, and Miami of Florida. The linebacker, who only likes schools starting with the letter "M," has not formed a timetable for a decision (and no, he hasn't committed to Michigan, though that would likely make the Wolverine coaches ecstatic).
TX LB Corey Nelson bizarrely named Michigan his leader a while back, sight unseen (and despite holding offers from other bigtime schools). The teammate of RB commit Tony Drake has since changed his tune, however, and it doesn't seem like Michigan is in his top 5 or top 10, much less his leader. Drake may not have a ton of time to sway Nelson, since the linebacker intends to shorten his timetable for a decision.
OH LB Jordan Hicks has named three of his official visits. Ohio State, Texas, and USC will receive officials, with Alabama, Georgia, and Florida likely to be contending for his 4th and 5th visits. Michigan is nowhere to be seen on the list, but with his teammate, TE Alex Smith, apparently very interested in the Wolverines, they have some upward mobility in his favorites list. Still, the Buckeyes and Longhorns are probably a prohibitive top 2.
After Michigan offered last week, OH S Bobby Swigert has now also received an offer from Ohio State (info in header).
SC CB/WR Nick Jones has Michigan among his favorite schools, and claims a Michigan offer (the veracity of which I'm skeptical about). He's yet another Byrnes, SC product that Michigan is recruiting, though it seems less and less likely (i.e. rapidly approaching zero probability) that any of the bigtime prospects from that school – RB Marcus Lattimore and DEs Brandon Willis and Corey Miller – will even visit Ann Arbor, much less pick Michigan. Miller, at least, has not begun to narrow his list of suitors yet.
Removed MI CB Mylan Hicks, who committed to Michigan State.
Posted under Football
Tags: 2010, alex smith, barry brunetti, bobby swigert, brandon willis, brent benedict, christian green, corey miller, corey nelson, cornelius jones, darryl baldwin, delvin jones, devin gardner, eduardo clements, holmes onwukaife, javarie johnson, jordan hicks, marcus lattimore, mylan hicks, nick jones, tony drake, travis williams, william gholston

7 Comments so far
More Blog Post