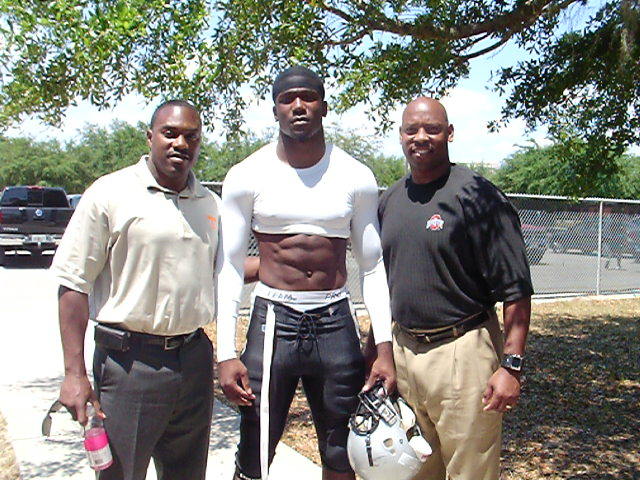 Don't forget, you can always visit the 2010 Recruiting Board here, or by clicking the link on the left sidebar.
Moved to Committed:
FL S Marvin Robinson. And there was much rejoicing. Also, there was a weird "OMG Half Shirtlessz" picture.
SC RB Marcus Lattimore has named Auburn his favorite after visiting for the Tigers' spring game. I would be surprised if this lead holds up after he visits other schools, including Michigan, which he's currently scheduled for the OSU game. His top 10 remains unchanged, but Auburn has shuffled their way to the front.
Has Michigan offered FL RB Darion Hall? Yes, according to Phil Kornblut:
Clemson has an offer out to running back Darion Hall (6-0, 200) of Naples, Fla. He has also been offered by Arkansas, Syracuse, Kentucky, SMU, Vanderbilt, West Virginia and Michigan. He also is hearing from Miami and Florida.
I've added him to the board as offered.
Sam Webb Detroit News fluff on MN OL Seantrel Henderson, the consensus #1 overall recruit. Both Michigan and MIchigan State are in his current top 10. He also won't announce a decision until one of the All-star games (he hasn't decided whether he'll participate in the Army or ESPNU game). I wouldn't be surprised if Michigan tries to get Eastern to land MN Ath JD Pride, so Henderson could be close to his good friend.
PA OL Seth Betancourt is currently looking at the SEC. Distance from home apparently matter to him, though he's currently considering every school that extends him a scholarship offer. Michigan is not yet among those schools, but such programs as Pen State, Boston College, and West Virginia are.
Seems as though there's a bit of a controversy surrounding NC DT Gabe King and several other athletes who were looking to transfer to Northern Guilford High School next year. Northern's principal has already resigned over the ordeal, and it should be interesting to see if King's eligbility at that school is threatened.
OH DE Darryl Baldwin has come out with a final four that includes Michigan (along with MSU, OSU, and ND). The article was crafted by a Sparty author, so be mindful of bias and incapability of forming a complete sentence. I keep forgetting whether it's Baldwin or Derrick Bryant that is a supposed lock to OSU, so remain mindful that one of them is.
There was a weird situation early Sunday, in which Bob Lichtenfels of Scout.com said DC LB Javarie Johnson had committed to the Wolverines. GBW (on Lichtenfels's own network, oddly enough) quickly pulled out their best Mike Gundy and said "THAT AIN'T TRUE." Over the course of the day, they posted several articles (or "blogs" as they idiotically call message board posts) that ultimately showed they were correct, though he's still listed as a commit on Scout. Still, Johnson did visit Ann Arbor this weekend and leave with an offer, so Michigan is interested in him. Additionally, commitment rumors don't really crop up without some form of reciprocated interest. I've added Johnson to the board, and he might be a prospect to keep an eye on in the coming weeks.
TX LB Caleb Lavey committed to Oklahoma State. This is weird, because Michigan had previously been considered the heavy favorite for him. After a brief visit to Oklahoma State, the lifelong Michigan fan immediately committed to the Cowboys. I'm not going to take him off the board quite yet, because, well, WTF? Oklahoma State? Seriously?
IN DE/LB Blake Lueders has a top 6 that does not include Michigan. It does include BC, Stanford, Notre Dame, Northwestern, Wake Forest, and UNC. However, somebody instruct LTP that "Top 6" != "Final 6."
SC S Bashaud Breeland has named a top 3 of Clemson, South Carolina, and Virginia Tech. He is still considering the rest of the schools that have offered him (including the Wolverines), but those three stand out for now.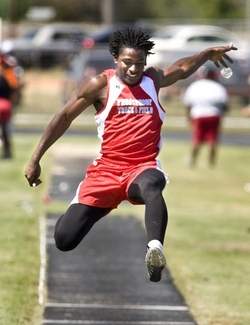 FL CB Nickell Robey is pretty good at track, fyi. Despite a hamstring injury, he managed to win the long jump and triple jump, and finish fourth in the high jump.
Florida's Spring Game may have gotten the Gators some recruiting returns of their own. Of note to Michigan fans:
Lithonia, Ga., Martin Luther King running back Mack Brown, who some have labeled as the No. 1 target on the Gators' board this season, said that Florida has officially taken over as his top school.

One guy who had a major slip on how he feels about Florida was Delray Beach, Atlantic wide receiver James Louis. In an interview with Scout.com after Saturday's game, Louis actually said he'll be a Gator soon. He didn't commit, but he said it looks like he will.
Both are downgraded from "longshot" to "extreme longshot" at this point. I'm not sure exactly how interested the Wolverines were in Louis anyway, but it looks like he'll be off the board soon enough. By the way, the author of the article estimates that there were over 1,000 recruits and parents of recruits at the game. Something for Michigan to aim for in future years, no?
Removals:
LA DT Risean Broussard. Committed to Tennessee.
FL LB BJ Butler. Committed to Georgia.
TX LB/S Luke Muncie. Committed to LSU.
OH CB Mike Dorsey. Committed to West Virginia.
Robey Photo by Ernst Peters of The Ledger.
Posted under Football, Recruiting
Tags: 2010, bashaud breeland, bj butler, blake lueders, caleb lavey, darion hall, darryl baldwin, gabe king, james louis, javarie johnson, jd pride, luke muncie, mack brown, marcus lattimore, marvin robinson, mike dorsey, nickell robey, risean broussard, seantrel henderson, seth betancourt

4 Comments so far
Trackbacks
More Blog Post