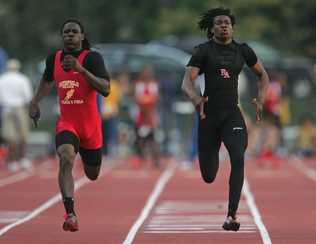 As always, the 2010 Recruiting Board has a running tally of all the updates.
A very Michigan-tastic relay team of Denard Robinson, Adrian Witty, 2010 RB Cassius McDowell, and Donte Dotson (who does not play football) won the Florida State Track title in the 4×100 relay, with a time of 40.64. They did not, however, break the state record of 40.54, partially because of a bad handoff between Witty and Dotson:
"I'm mad we didnt break it but happy that we won states," Robinson said. "It's a great experience. I don't know what happened. Our exchange wasn't that good from first to second. That is what got us. It means a lot. To two-peat means a lot, especially after losing two legs from last year."
If only there were video of this whole thing… ASK AND YE SHALL RECEIVE:

The legs are as follows: Dotson, Witty, McDowell, Robinson. All are very fast. Robinson finished 3rd in the 100m dash, with a time of 10.62.
Oklahoma-oriented radio interview/podcast-like-substance with CA RB Brennan Clay. Talks about how big a threat the Scripps Ranch offense was, in large part thanks to Tate Forcier. Brennan caught 70 passes and ran 107 times, so he's definitely a multi-skilled threat. Not to sound the alarm bell quote yet, but he lists about 10 of his offers, and Michigan is not among the schools he names.
IL RB LaSteven McKinney is among the 400 nominees for the Army All-American Game, and he talks a little bit of recruiting.
Former Michigan and 10-year NFL running back Tyrone Wheatley is the [EMU] Eagles' running backs coach and has kept tabs on McKinney.

"I talked to Coach Wheatley yesterday on the phone," McKinney said. "He said that I'm definitely the type of player that they like and I remind them a lot of Reggie Bush. They said that they can't see why I don't have anymore offers yet, so it was a very good compliment and he seems like a pretty good guy."

"I'm thinking I should have everything narrowed down by national signing day," McKinney said. "I'm very open-minded about everything."
I wouldn't be surprised if he's given at least a glance later on, though it sounds like it would be for either defense or slot:
McKinney is also a polished receiver, as Racki sometimes uses the standout in the slot… Though he is a productive running back at the high school level, McKinney is being recruited by many schools as a defensive back because of his fluid hips and quickness. Racki said every Big Ten school, including Illinois, has shown interest with only Michigan State recruiting McKinney as a running back.
I would presume that, since Michigan has 2 RB/Slots prospects already committed, he would be a defensive guy, or maybe a contingency plan for a decommit. He may be the type of kid who comes to Michigan's camp, as the Eastern Michigan coaching staff typically attends.
OH RB/DB Christian Bryant has received his Ohio State offer, so it's likely only a matter of time before he commits to the Buckeyes. Like many Glenville players, the Ohio State offer was all that was holding him back from becoming a Buckeye. He may wait a while to announce a commitment, as Glenville players often do, but he's as good as Scarlet.
Has Michigan offered FL WR Ace Sanders? I had't previously heard of the kid, and I'd be shocked if they offered yet another WR (albeit a slot). Still, I was wrong in questioning a report last week, so I'll give him the benefit of the doubt, and at least add him to the board as unoffered.
They're also still visiting the high school of NC WR Anthony Creecy. Again, I'm skeptical of their desire to take another true WR, but this is a results-based recruiting board, so he's added. Of course, any additional WR recruit may still end up at another position.
FL WR Quinton Dunbar has Michigan in his top 6, despite aforementioned glut of wide receiver recruits for the Wolverines. The need for another outside wideout is low, and a recruiting class heavy in wide receivers isn't exactly inviting to recruits, so look for Michigan to miss one of the next couple cuts for Dunbar, barring unforeseen circumstances.
After visiting Ann Arbor earlier this spring, FL OL Torrian Wilson named the Wolverines his favorite. I assumed, like many other Michigan fans, that after the afterglow of the trip started to fade away, that Wilson would back off that statement, and eventually start favoring another school (such as the hometown Miami Hurricanes, which took 8 Miami Northwestern prospects in the class of 2008). Recent indications, however, are that Wilson still favors the Wolverines. Better yet, he plans to decide sometime this summer, which means other schools don't have a ton of time to catch up with Michigan. Keep an eye on this one though, since I wouldn't be surprised if the 'Canes made a push at Torrian.
Since Wilson seems to be holding strong with the Michigan lead, it reduces the downside of FL OL Jose Jose announcing for Tennessee, except for the fact that a player named "Jose Jose" should get the full red carpet treatment on name basis alone.
IN DE Blake Lueders is going to start cutting down his school list (info in header). Considering he recently released a top 6 with Michigan nowhere to be found, don't be surprised if the Wolverines don't make his first cut.
FL LB Jeff Luc is among the nation's top linebacker prospects, and is near the top of the charts overall, as well. I guess, then, that he's deserving of a pretty serious fluff piece from Gridiron Studs:
He has turned his life completely around through football and faith. Luc now sports a 3.7 G.P.A., is on track to graduate early and wants to be an engineer major in college. As for what college that would be, that's the big question that Luc will keep people waiting on.

" I don't have a favorite right now," Luc says, "I like them all."
Here's the video referenced in the article (and it is indeed impressive):

Yay, video.
MD LB Javarie Johnson, though it was erroneouly reported a while back that he committed to Michigan, has in fact not. However, he still did enjoy hi visits to both East Lansing and Ann Arbor, and holds both the Spartans and the Wolverines in high regard. Maryland and Miami still loom in his recruitment, but that group of schools may be an unofficial top 4. Aside from schools of choice, Johnson plans to be a January enrollee, so his decision will likely be made sooner rather than later.
FL CB/Ath TC Robinson, the cousin of S commit Marvin Robinson, is currently favoring Michigan (info in header). If an offer ends up coming through for Robinson the Second, I wouldn't be surprised if he ended up in Blue, what with the family connection and all.
Continuing the Pahokee-centric bent from Monday's recruiting update: Josh Helmholdt expands in the Free Press on Michigan's recent rash of offers to Pahokee players:
Michigan returned to Pahokee early during recruiting for the class of 2010 and offered four-star wide receiver De'Joshua Johnson.

Smith visited Pahokee High last week and offered three more Blue Devils: linebacker Zachary Allen, cornerback Merrill Noel and defensive tackle Richard Ash. They also have offered wide receiver Chris Dunkley, who will be transferring to Pahokee from Royal Palm Beach High for his senior season.
And as I speculated Monday:
The five Pahokee players with U-M offers plan to travel with Pahokee coach Blaze Thompson to Ann Arbor for a camp in June.
Establishing pipelines obviously helps the players find a comfort level with Michigan, and the staff obviously realizes this. By the way, Tennessee is among De'Joshua Johnson's tentative list of three finalists, but good luck getting into Pahokee High to talk to him, Kiffykins. I hope hope hope a now-standard Lane Kiffin moment of Social Norm Non-Awareness takes place if he does indeed apologize to the Pahokee community. And, while we're on the topic, let's get some SoFlaFootball love from some of the guys who are new-ish to Michigan fans:
Merrill Noel 2010 CB 5′8″ 160: While Noel is being recruited as a cornerback, look for him to be used a lot inside the box this fall for Pahokee. Noel has great speed and is a physical defender. Noel has a host of offers, the latest being Michigan, but the school to keep a close eye on is Wake Forest.

Richard Ash 2010 DT 6′3″ 265: Ash has moved himself into being the top prospect coming out of Pahokee this season. His body is a work in progress and very easily can be around 280-pounds before he leaves high school. Ash's agility is impressive and is quick off the ball. Today in practice he did a nice job of shooting the guard-tackle gap and getting into the back field. A lot of talk going around that Florida is the school to beat for Ash as of now.

Zach Allen 2010 LB/DE/TE 6′2″ 180: Allen lines up as a defensive end during the 11-on-11 portion of the practice, where he was fairly active. Allen is lean right now, but in the future should be able to add the weight needed to play at a high level. The Alphonso Smith affect seems to be flowing through Pahokee, as Wake Forest is a school to watch for Allen.
Famliarize yourselves, yo.
I know I promised not to spout Army Game nominations just for the sake of doing it, but here's the list of players from the state of Michigan who are being considered:
Huron wide receiver Jeremy Jackson, Chelsea tailback Nick Hill and Saline quarterback Joe Boisture are three of 10 players from Michigan on the list released this week. The game will be played Saturday, Jan. 9, 2010, in San Antonio's Alamodome and broadcast live by NBC…

Other in-state finalists include University of Michigan commit Devin Gardner (QB, Inkster) and MSU commit Max Bullough (LB, Traverse City St. Francis), along with Williams Gholston (DL, Detroit Southeastern), Dior Mathis (DB, Detroit Cass Tech), Austin White (RB, Livonia Stevenson), Robert Bolden (QB, Orchard Lake St. Mary's) and Jordan Sanders (DL, Rochester Adams).
So, let's tally 'em up: 2 Michigan commits, 1 State commit, 1 BC commit, and 6 uncommitted, at least one of whom will land at each of the in-state schools, per conventional wisdom. Speaking of Austin White, he was part of a 1:30.95 4×200 relay team. It's not quite Denard Robinson fast, but it's nothing to sneeze at. Dedicated article for his Army nomination.
Posted under Football, Recruiting
Tags: 2009, ace sanders, adrian witty, anthony creecy, austin white, blake lueders, brennan clay, cassius mcdowell, chris dunkley, christian bryant, dejoshua johnson, denard robinson, devin gardner, dior mathis, javarie johnson, jeff luc, jeremy jackson, jordan sanders, jose jose, lasteven mckinney, marvin robinson, merrill noel, nick hill, quinton dunbar, richard ash, robert bolden, tate forcier, tc robinson, torrian wilson, william gholston, zachary allen

1 Comment so far
More Blog Post