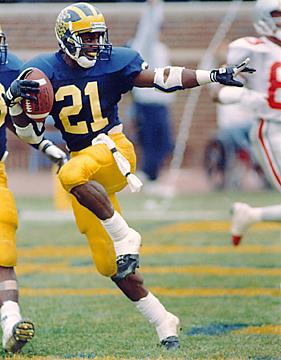 Among the many things that have often bothered me about the Michigan football program is the lack of serious Heisman buzz for any player (save, perhaps, for Mike Hart in 2006). So, as a Guy with Website, I fully intend to change that for the 2009 season. But far be it from me to determine which Michigan Wolverine deserves to have a full-fledged Heisman campaign this upcoming season. Why don't I have readers vote in an enormous bracket, instead?
Who's Eligible?
Originally, I had intended for this to be a ridiculously large bracket, with everyone on the roster eligible. Well, that didn't get off the ground quite as I had intended, and to simplify things, most players with a reasonable expectation of playing time and stats will be a candidate in the bracket contest. There will be one contest each day, with voting open for 7 days (so the results will roll in over time). As the roster gets pared down to 4 or 8 candidates, they'll be spaced out a little more to give each battle a chance to get the votes it deserves.
What's the 'Prize?'
The "winner" will have a Varsity Blue section created in his honor, to tout his candidacy for the Heisman trophy, a la the now-defunct Hart4Heisman.com, or official athletic department sites like CurtisPainter12.com (try to stifle your laughter). Depending on the level of effort I'm willing to put in, perhaps some of the runners-up will have pages as well, at least touting them for position-specific awards like the Ray Guy trophy or Rotary Lombardi Award.
Show Me the Bracket!
Ah, patience young one. I'll reveal the bracket early next week (how does Tuesday sound?) and battles will get started the next day.
Posted under Football, Personnel
Tags: boring offseason, heisman campaign

5 Comments so far
Trackbacks
More Blog Post