The Recruiting Board can be found here.
The Wolverines have offered MN OL Seantrel Henderson the chance to play basketball during the offseason, one of several schools offering him the chance to do so in order to lure him to their teams. While we're discussing Henderson, take a look at this hilariously oblivious article on his recruitment. Money quote: "USC may be the dark horse."
I won't add him to the board quite yet, but keep an eye on FL OL Ed Christian. He is a Florida State commit, but of the super-soft variety. He'll take visits during the season, and likes the South Carolina Schools along with Michigan and Tennessee.
Removed SC OL Eric Mack, who hadn't seemed interested in Michigan for a while. He's now committed to South Carolina.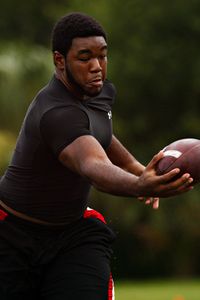 Removed FL OL Chaz Green (seen at left), who has what amounts to a final 4 of Florida, USC, Georgia, and Ohio State. He had planned to make a summer commitment, but wants a chance to visit the Trojans and Buckeyes, which may delay his decision. Doesn't sound like any other schools have a serious shot to get back into the mix for him.
NC DT/DE Gabe King has narrowed his list to an approximate top group, which does not include Michigan. I'll leave him on the board a little longer until it's a firm final list of schools.
Removed NC DE Prince Shembo. He's down to a top 4 (info in header), and hasn't been a major prospect of interest with Michigan so far this year. It think it's fairly obvious that the Wolverines aren't in that final list.
Removed LA DE Jordan Allen. He committed to LSU.
Removed SC DE Corey Miller, who committed to Florida State.
Removed OH DE Darryl Baldwin, now an Ohio State Buckeye.
Michigan is in the top 6 for CT LB Khairi Fortt. He's soon to visit Georgia, and if they're up to snuff, the Bulldogs will make the list. Otherwise, he'll probably be down to a top 5. That leaves Michigan as one of the few schools he likes that, if I'm remembering correctly, he has not visited. He plans a summer Michigan visit, and only plans to take 3 official visits, likely to schools on his list that he hasn't yet seen. Fortt plans to enroll early at his school of choice in January.
OH LB Jewone Snow is still waiting on a Michigan offer. Unless Michigan plans to fill out the defensive class with really highly-rated guys, it seems like he should be a shoo-in. He's a middle linebacker (a major position of need), he's a Michigan legacy (son of Garland Rivers), and has a younger teammate who may be the top prospect in Ohio (2011 DE Steve Miller). If the Wolverines were to eventually offer, it seems like they'd have a pretty good shot at Snow.
PA S Brandon Ifill is planning to visit Michigan by the end of the month (info in header). Despite not having visited Ann Arbor yet, Ifill lists Michigan in his top two, along with Maryland. Would a very good visit convince him that he's ready to commit?
Sam Webb Detroit News fluff on FL CB Tony Grimes. An article entitled "Michigan will be 'tough to beat'" probably bodes lots of good quotes for Wolverine fans:
"For me to already have a good connection with Coach Hopson is a big plus."

"Man, there ain't nothing like the Big House — let me say that right now," Grimes said. "It was even bigger than I thought it would be."

"Michigan is going to be tough to beat," he said. "It's a great program. The networking is on point at Michigan and the alumni system is amazing. The coaching staff is building something great over there."

To date, Grimes has scheduled only one of his five official visits. He plans to return to Ann Arbor for the Sept. 12 matchup against Notre Dame. The remainder of his itinerary is a work in progress.
From the way he effusively speaks about Michigan, that Notre Dame official visit may be a pretty good time to look for a potential commitment from Grimes. Scouting report:
"He is considered by some to be (Florida's) most physical corner," said Scout.com Florida analyst Geoff Vogt. "He will beat receivers up mentally and physically, and he does not get beat one-on-one. He has the ability to mirror receivers all over the field and he will come up in the run game and make his presence felt. He doesn't have lights-out speed, but he is physical, and his competitiveness just can't be taught."
He also has decent height for a corner (which I guess is predictable for a guy whose physicality is his most praised attribute). The lack of elite speed may be a question mark, but Michigan already has super-speedy guys like Boubacar Cissoko and Courtney Avery, so a couple taller corners might be in order anyway. lance at UMGoBlog also rounds up a bunch of the available information on Grimes, including video:

Added FL CB Eric Mitchell. This Scout header is particularly revealing: he visited Michigan over the summer, and the Wolverines stand in his top 5 along with Ole Miss, South Florida, Vandy, and Louisville. To the best of my knowledge, he does not yet hold a Michigan offer.
Removed FL CB Travis Bell, who has committed to West Virginia.
Removed FL CB Spencer Boyd, who (as predicted) committed to Notre Dame over the weekend.
Posted under Football, Recruiting
Tags: 2010, 2011, boubacar cissoko, brandon ifill, chaz green, corey miller, courtney avery, darryl baldwin, ed christian, eric mitchell, erick mack, gabe king, garland rivers, jewone snow, jordan allen, khairi fortt, prince shembo, seantrel henderson, spencer boyd, steve miller, tony grimes, travis bell

3 Comments so far
More Blog Post