Not much in the way of football recruiting info today, so I'll drop some lacrosse knowledge. Yes, I'm doing a recruiting post for a sport that is not only non-revenue, but not even varsity. Partially inspired by commenters who have filled me in on a few guys to look out for (special thanks to Roger and Old Blue). Quick note: since Michigan's program is club, it's difficult to tell which players are actually going to be enrolling in Ann Arbor (the last couple years' commitment lists seem to have a bunch of guys who never ended up on the team), since there are no letters of intent. The full list (from LaxPower):
| ID | Div | Name | Hometown | State | HighSchool | HS_St | Position | Status | College |
| --- | --- | --- | --- | --- | --- | --- | --- | --- | --- |
| 504 | U | McGee, Conor | Baltimore | MD | Gilman School | MD | Goalie | R | Michigan |
| 737 | U | Abdelnour, Cy | Ann Arbor | MI | Pioneer | MI | Goalie | R | Michigan |
| 978 | U | Johnson, J.D. | Malibu | CA | Loyola-Los Angeles | CA | Defense | R | Michigan |
| 993 | U | Steenland, Willie | Minneapolis | MN | Blake School | MN | Midfield | R | Michigan |
| 1593 | U | Gualtieri, Andrew | Amagansett | NY | East Hampton | NY | Midfield/FO | R | Michigan |
| 1594 | U | Silver, Harrison | Cross River | NY | John Jay-Cross River | NY | Midfield | R | Michigan |
| 1595 | U | Hrusovsky, Joseph | Lake Forest | IL | Lake Forest | IL | Midfield | R | Michigan |
| 1596 | U | Boshes, Lee | Deerfield | IL | Deerfield | IL | LSM | R | Michigan |
| 1597 | U | Gothelf, Ross | Owings Mills | MD | Owings Mills | MD | Defense/LSM | R | Michigan |
| 1598 | U | Paras, Thomas | Lakewood | OH | St. Ignatius | OH | Attack | R | Michigan |
| 1599 | U | Dauch, Zach | Bloomfield Hills | MI | Lahser | MI | Midfield | W | Michigan |
| 1600 | U | Scadron, Travis | Bloomfield Hills | MI | Lahser | MI | Midfield | W | Michigan |
| 1620 | U | Ives, Joey | Newton | MA | Newton South | MA | Defense | R | Michigan |
| 1720 | U | Asher, Nick | Portage | MI | Portage Northern | MI | Midfield | R | Michigan |
| 1762 | U | Cox, Forrest | Alexandria | VA | Phillips Andover | MA | Defense | R | Michigan |
| 1953 | U | Wells, Adam | Lake Orion | MI | Cranbrook Kingswood | MI | Goalie | W | Michigan |
| 2143 | U | Sklarin, Jeff | Atherton | CA | Menlo Atherton | CA | Midfield/Attack | W | Michigan |
Conor McGee, G, Baltimore MD
1st team all-Baltimore selection by the Baltimore Messenger. McGee is the only player on the list that is not playing varsity in college, except for one player moving along to a boarding school (where he'll undoubtedly rock some serious pastels) and one junior. Gilman is a serious lacrosse school (unlike those total scrubs from Brother Rice), finishing the year ranked #1 in the country. McGee received interest from smaller D-1 schools, but opted for the big-university experience at Michigan. According to the LaxPower database, he's the nation's top goalie that will head to a club program.
There is, oddly enough, a ton of video of McGee available, most likely stemming from the fact that his high school program is teh rulz:

There are also non-embeddable Gilman highlights out there if you're interested.
Cy Abdelnour, G, Ann Arbor MI
Since Conor McGee was the top goalie in the nation to go club, it may be expected that the Wolverines would let several other goalies slide through their grasp before picking up another in the class. That's not the case, however, as Pioneer's Cy Abdelnour is the second-best goalie in the class of 2009 to commit to a club school, and he's also going to Michigan (the first goalie headed to a non-Michigan club team is the #1156 overall recruit, headed to Florida State). He had also been recruited by D-3 Adrian. Cy is a Peruvian adoptee whose adopted father was a linebacker at Florida, and though he's a little guy (5-6, 150), he led Pioneer to unprecedented heights in the state tournament. He was named first-team all-state in 2008, alongside Quinnipiac signee TJ Yost..
JD Johnson, D, Malibu CA
JD Johnson hails from Los Angeles, where he played at Loyola Academy. He's a long-stick midfielder/defenseman who was first-team all-league. In addition to his defensive prowess, he was the faceoff man for the Cubs. I couldn't find measurements on Johnson, but from the video, it appears that he's much bigger than most of his opponents.

Willie Steenland, M, Minneapolis MN
Steenland was the leader of his Blake School team in 2009, after the departure of 2008's star player, Dartmouth's Kip Dooley (who was the Big Green's leader among freshmen in all statistical categories – please click that link, if only to see Dooley's outfit). He led his Blake Bears to a fourth-place finish in the state. Steenland was not a consistent scoring threat for his team, but managed to score more than a goal per game over the season while excelling on defense.
Andrew Gualtieri, M, Amagansett NY
Andrew Gualtieri is a midfielder/faceoff specialist from Long Island. For his East Hampton/Bridgehampton team in 2009, he scored 10 (or 12?) goals on the year, and had 4 (maybe 5?) assists. His lack of scoring output leads me to believe that Michigan is looking at him primarily as a faceoff specialist, though some articles on him implied that he ran the offense for the Bonackers. East Hampton/Bridgehampton also sent two players two varsity programs in the class of 2009, with Jared Bowe heading to Delaware and Mark Simmons on his way to Wesleyan.
Harrison Silver, M, Cross River NY
Harrison Silver is a midfielder/faceoff specialist from John Jay High School in Cross River New York, a traditionally strong lacrosse program (1 D-I and 6 D-II players in the class of '09, in addition to Silver, and 6 D-I and 6 D-III players in the previous class). He earned playing time as a sophomore and a junior, but as a senior, Silver was named a captain for the Indians. He's a little guy, at 5-9 and 160 pounds, yet still managed to be named all-section (and was a halfback on the Indians' football squad).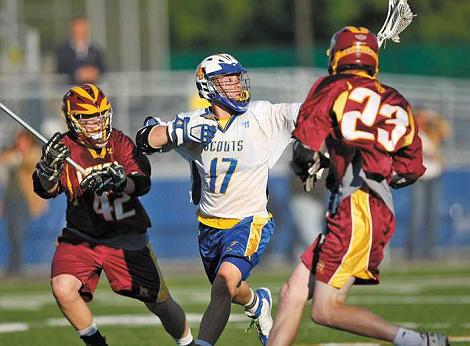 Joseph Hrusovsky, M, Lake Forest IL
The last name likely sounds familiar to Michigan lacrosse fans, as Joseph's older brother, Anthony, will be entering his senior season with the Wolverines in the fall (his 5th academic year). Joseph was all-state his junior season, as well as his senior year. He's a high-scoring midfielder (not unlike older bro).
Lee Boshes, LSM, Deerfield IL
Lee Boshes is a longtick middie/defenseman who is one of the stronger defensive players in the Michigan class.
Naturally, Boshes is one of the team's captains this season.
"He plays long stick middle," said Deerfield coach Derrick Tiveron. "And defense. He has done a fantastic job helping us to build our defensive unit."
Among Michigan's top recruits, he and JD Johnson are the only players who appear to be defensive specialists. Since Michigan's program is built around a strong defense, adding top defensive players is certainly a priority.
…and I guess the top 8 recruits is a good enough place to stop for now. If you'd like to share info on any of the guys mentioned (or any of those that I didn't cover in further detail), feel free to do so in the comments.
Posted under Other Sports, Recruiting