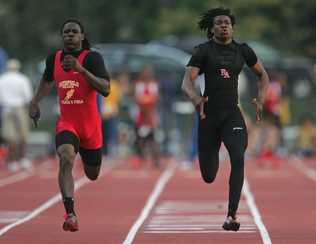 2010 Michigan Recruiting Board. Yes, I've been slacking a bit in updating the actual board, but I hope to bring it up to date today.
Super fluff about incoming freshman Denard Robinson. Great leadership in football and track, etc. Teammate Cassius McDowell, a 2010 RB, mentions that Robinson will certainly be missed in Deerfield Beach.
As far as 2010 news goes, nothing is more pressing at the instant than the news that PA LB/DE Ken Wilkins is set to announce his college commitment tomorrow afternoon. He is expected to pick Michigan.
MI QB commit Devin Gardner and a host of other prospects from the Great Lakes State performed at the Chicago Nike Camp, where they were very impressive. IL WR Kyle Prater, who includes Michigan in his final 10, was named the overall MVP.
With Jake Heaps off the board to BYU, Tennessee is now on the hunt for a new quarterback in the class of 2010 (you may recall that Lane Kiffin idiotically didn't take one last year, despite a pressing need). The Vols are expected to land TN QB Barry Brunetti, though Penn State had reportedly been leading for his services. Michigan's chances at Brunetti decrease again, though they hadn't offered him and it didn't seem inevitable that they would.
Michigan is in the final four for FL RB Darion Hall (info in header).
CA RB Brennan Clay has committed to play for Oklahoma. I'll leave him on the board for now, because there's no word on whether he still plans to take his scheduled trip to Michigan early in the season. If he does indeed take that trip, Michigan will have Tate Forcier in his ear trying to change his mind.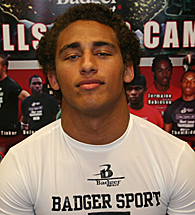 CA Ath/RB Dietrich Riley did not give a silent commitment to Tennessee, which ok, I hadn't even heard that as a rumor worth addressing. Still, he says Michigan is recruiting him the hardest, and he plans on visiting several schools this summer, including a trip to Ann Arbor. The recruiting criteria for him include a staff with NFL experience, so that may ding Michigan in his eyes. Also, distance doesn't matter to him because he has family "throughout the south," which doesn't sound particularly promising for Michigan, either. However, a trip to campus is always an opportunity to win over a recruit, so don't count Rich Rod and company out just yet.
OH WR/DB Commit DJ Williamson continues proving that he's fast as hell. As long as he can translate that to the football field in the fall, he should see the recruiting services rate him higher by Signing Day 2010.
Re-added OH TE Alex Smith, who will still consider Michigan despite being a Cincinnati commit (info in header). He visited for the Big House BBQ, and apparently liked what he saw enough to officially soften his commitment to the Bearcats.
MN OL Seantrel Henderson is beginning to narrow his list, and though he's just getting into that process, Michigan is in the top 10. Remember, he plans to visit Ann Arbor again this summer, so don't be surprised if the Wolverines manage to make their way into his top 5 as well.
Added OH OL Travis Jackson. He's interested in Michigan, despite no offer (info in header). Jackson is slightly undersized, but considering Michigan's last player to come out of St. Francis DeSales was slightly undersized as well (Patrick Omameh), and they might view him as someone they can try to mold a bit. Deales has also had a run of D-1 players over the past couple of years, so keep an eye on the present AND future there.
Temper any possible enthusiasm about FL DT Richard Ash. He's basically all but committed to be a Gator, but wants to take a couple official visits to experience the recruiting process. He'll make his commitment official on September (or is it November?) 25th, and it will almost certainly be for the Florida Gators.
Inched closer to removing SC DT AJ Cann. After originally expressing interest in Michigan, he has narrowed his list to a group of schools in the Southeast. Honestly, I wouldn't be shocked if his Michigan interest was just a ploy to get a free trip to see the Western Michigan game, as his older brother plays for the Broncos.
Removed KS DE Geneo Grissom, who committed to Kansas. He expressed Michigan interest very early in the process, but all had been quiet on that front pretty much ever since. With Michigan's DE class so far, and taking into account the amount of pressure that the coaches clearly didn't put on him, and Grissom is certainly no big loss.
Removed IL DE Louis Trinca-Pasat, who has committed to Iowa. Same story with Trinca-Pasat as with Grissom: Michigan didn't seem to want him particularly badly, so he's certainly not a big loss.
Added GA LB Tyrone Cornileus, who counts the Wolverines among his group of leaders. Miami and Georgia Tech are probably atop that list, however.
Removed TN LB Justin Maclin, who committed to LSU. Despite receiving a Michigan offer a little while back, he never seemed particularly interested in the Wolverines, so it comes as no surprise that he has committed to another school.
Posted under Football, Recruiting