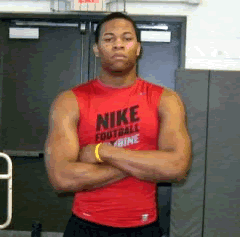 2010 Michigan Wolverines Recruiting Board.
Moved PA DE/LB Ken Wilkins to committed. Commitment post. Local paper article. I didn't really want to, but I'll have to fisk:
The word on Wilkins? Well, a good source at Trinity who knows the football program well said Wilkins is talented, but isn't as athletic as  Andrew Sweat, a Trinity linebacker two seasons ago who is now at Ohio State. "He doesn't have the agility that Sweat had," the source said.
Wow, a defensive end doesn't have the same agility as a linebacker. You deserve a medal for figuring that one out, guy.
More Nike Camp recap from Josh Helmholdt in the Free Press. Relevant players include MI QB commit Devin Gardner:
the 6-5, 210-pound Gardner is dual-threat quarterback and many of his best attributes are not showcased in a non-contact camp setting. Still, Gardner showed that he has spent a good portion of the offseason working on his passing. His footwork is vastly improved and even though he still has an atypical throwing motion, he was able to make all the throws and did so with adequate arm strength and accuracy.

Livonia Stevenson's Austin White took home the MVP honors at the running back position with considerable ease. The 6-1, 185-pound White was nearly unstoppable in the one-on-one portion of the camp, using his speed to outrun would-be defenders. White's footwork and agility in the drills portion of the camp also solidified his MVP honors.

Although they did not take home MVP honors, Southeastern defensive linemen Johnathon Hankins and William Gholston both had good performances, too. The 6-3, 320-pound Hankins has put a lot of work into his conditioning this offseason and it showed in his performance Saturday. The 6-7, 240-pound Gholston is the state of Michigan's top ranked prospect and his combination of size, speed and athleticism is hard to find anywhere in the country.

Other standout performers for the state of Michigan included Saginaw class of 2011 wide receiver DeAnthony Arnett, Inkster running backs/safeties Daniel and Nathan Lindsey, Ypsilanti Willow Run defensive tackle Garret Davis, Warren Fitzgerald linebacker Austin Gray, Cass Tech athlete Daniel Easterly, Lansing Sexton quarterback Taurean Jackson and Hartland 2011 wide receiver Matt Poches.
Removed OK AB/WR DeMarco Cobbs. He's down to a top 8, which Michigan is nowhere near. He also plans to go down to a top five soon, so there's little room to sneak onto his top list.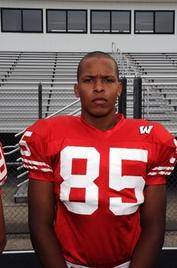 Shortly after a visit to Michigan for the Big House BBQ, and slightly opening the door on his recruitment, OH TE Alex Smith (seen at left) has fully decommitted from Cincinnati. Michigan will probably among the favorites to land his signature, as he's been on campus multiple times. If they're able to land Smith, it would certainly help with his teammate, LB Jordan Hicks. Hicks is one of the top linebacker prospects in the nation, and plans to graduate early. He has a top 6 list that he plans to reveal in short order. Ohio State and Texas are locks to be on the list, and Cincinnati will probably make it as well. Your guess is as good as mine for the last three.
MD OL Arie Kouandjio has landed a coveted Ohio State offer, and considering how selective they can be with offensive line recruits (though the results may not be there over the past two years), it certainly means he's kind of a big deal. He plans to narrow his scholarship offers to a top five by the time his senior season rolls around.
Speaking of OL prospects (and one Michigan has a much better shot with), FL OL Torrian Wilson has modified his top 5, removing Tennessee in favor of… FIU? Lol Kiffin and whatnot. Alabama, Stanford, and Miami of Florida are the others in his favorites list, along with the Wolverines.
OH DE Darryl Baldwin is likely staying close to home when he ultimately selects a school. Though that immediately makes one think he's likely to be a Buckeye, that's certainly not set in stone. The original quote from his coach was "Everybody across the country was interested in him, but he's a Midwest guy and he's leaning towards staying close to home." That sounds a bit more positive for coaches across the midwest, no?
Video fluff on FL LB Christian Jones. He still sounds like he's going to Florida State, so I wouldn't give him tooooo much thought.

I just added him Monday, but don't expect GA LB Tyrone Cornileus to stay on the board long. He has a top 3-ish substance without Michigan in it, and he plans to make a commitment within a month.
MI S/LB Daniel Easterly will camp at Michigan in hopes to land an offer from the Wolverines. He hails from the developing Michigan pipeline of Cass Tech.
Removed LA S Ronnie Vinson, who committed to LSU. He spoke early about really liking Michigan, partially due to a connection to Adam Kraus. However, he hadn't mentioned the Wolverines in a while, and was probably no longer a realistic option.
Added OH twins DT Terry Talbott and CB Terrence Talbott. Michigan has offered both of the brothers (info in header).
This may be weird coming from me, but how about some hoops-related recruiting news? 2009 commit Darius Morris will report to Ann Arbor on June 22 for enrollment in summer classes (info in header).
This update is getting FULL. The rest of the info will be saved for a Monday update.
Posted under Basketball, Football, Recruiting